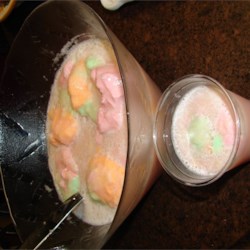 Great for wedding or baby showers. I've had it at both, actually! Very refreshing and just beautiful. This was inspired by a recipe found at
AllRecipes.Com
, but I tweaked it a little to make it easier for me because I already had some ingredients that would work for it. This would also be great for summer barbecues or family parties because it is so easy to make and it just makes a TON. Enjoy!
2 Liters pineapple-flavored soft drink
(I think I used Shasta)
1 Liter Ginger ale
1 pint Orange-flavored sherbet
1 1/2 pint vanilla ice cream
Combine in a large punch bowl. Sort of chop the sherbet and ice cream up so it's not just a glob in the bowl, so that it can be separated into cups when it is served. Very tangy!